---
Latest Post:
We beat Newcastle about a week and a half ago in extra time. We played our 2nd-string, and from what I've read their 2nd-string played at the time too. Worryingly, we didn't really beat them until we brought on Laca and ESR.
Well Noah, you might say, this time we can play our first string from the get-go! So can they, of course, even though they have been struggling even more than we have in the league. The main reason I'm getting a bit nervous about this one though is the fact that we didn't look great on Thursday against Palace (who are losing to Man City 3-0 as I write).
So, for me this game will be a test of whether our renaissance with ESR at CAM and Saka on the right was true progress, or just a flash in the pan. The biggest question marks in our lineup will be Tierney (fitness) vs AMN and Gabriel vs David Luiz. I think Partey is less of a question mark and he will look to get more minutes from the bench. I'm hoping those two can come through and give us a starting lineup of this: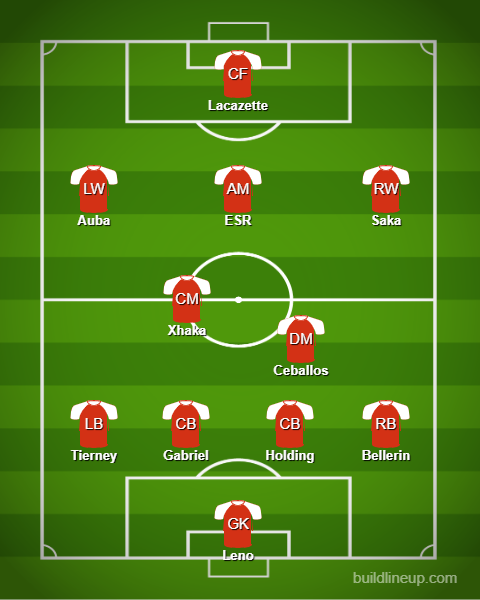 Aside from fitness questions it really seems like that will be our lineup. Perhaps Arteta may rest one or two of the players? Saka needs a break, but our games have been a little more spread out of late. The real question for me will be what happens for the subs? Martinelli on at LW at some point seems most likely. I suspect if we are behind it may be a like for like replacement of Auba; if we are in front it may be to take off ESR or Laca and shift Auba to CF.
For other subs, I like Willian coming in at CAM and Pepe/Nelson at RW. Partey can also make a like-for-like replacement of either of our double pivot. Of course everything will depend on the game flow.
Anyhow I've said enough. Here's hoping we win, Auba gets on the scoreboard, and another clean sheet! Come on you gunners!
-Noah